Upcoming Events
Cornell Homecoming 2014. Save the date: October 17–18, 2014.
Recent Events
Were you able to join us for Cornell Reunion this past June? Send your pictures and stories to alumnirecords@fiji-cornell.org.
Our Mission
Phi Gamma Delta exists to promote life-long friendships, reaffirm high ethical standards and values, and foster personal development in the pursuit of excellence. Phi Gamma Delta is committed to providing opportunities for each brother to develop responsibility, leadership, scholarship, and social skills in order to become a fully contributing member of society.
Learn more about The Kappa Nu Foundation, Inc., a tax-deductible educational foundation.
---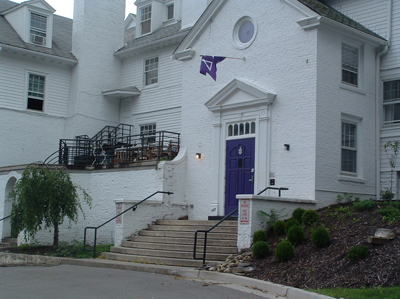 ALUMNI, THANK YOU FOR RETURNING FOR HOMECOMING
A Message From Our Purple Legionnaire (September 2013)
Brothers,
As Purple Legionnaire, I would like to personally thank everyone who returned to the Oaks this weekend to celebrate Homecoming. It is encouraging to see so many alumni at the Oaks showing their love and support of our fraternity and it speaks volumes of the impact that the house has had on so many FIJIs.
House President Mike Moon '15 also asked me to convey his gratitude on behalf of the undergraduate brothers of Phi Gamma Delta for the show of support.
Please do not hesitate to contact me with any questions or concerns. I look forward to seeing all of you at Pig Dinner this spring.
Yours Fraternally,
Jake Lill '12
---
FIJI THANKATHON 2013
Brothers Connect With Brothers
On September 1st a strong showing of 21 Kappa Nus, including President Michael Moon '15 and Graduate Leader Ricky Bronzo '12, led the charge of the annual Thankathon. In the calling team were one senior, three juniors, and 15 sophomores. The group arrived in advance of the 5:00 p.m. start time and were immediately immersed in the deep history of Kappa Nu and the Oaks led by Mike Duesing '62.
With no prior phone event experience, each FIJI jumped in and began making calls and making connections with the alumni. The actives took a break for dinner at 6:45 p.m., and during the break they were asked for feedback about their experience thus far. Jack Elks '16 had commented on his call with Pete Meinig '61, and Fady Gad '16 had mentioned having a great talk with both board members Bob Lurcott '61 and Tom Lurcott '75.
A special thanks to Mike Moon and Ricky Bronzo for their leadership during the event.