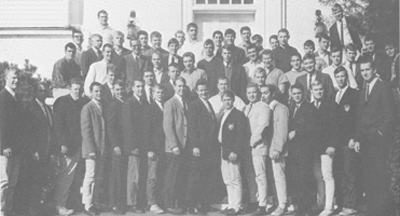 RETURN TO THE OAKS FOR REUNION WEEKEND
June 4-7, 2015
Make your travel plans and come back to the Oaks this summer!
Friday, June 5: House tours with alumni (4-6:00 p.m.)
Saturday, June 6: Alumni House Board Meeting (2:30-4:00 p.m.)
Saturday, June 6: Cocktail reception with alumni and brothers (4-6:00 p.m.)
For more information about Reunion events on campus, check out the Cornell website.
We are looking forward to seeing you at the Oaks!
---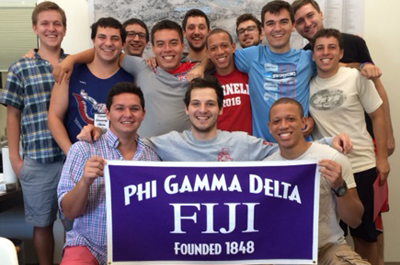 FIJI THANKATHON 2014
Brothers Connect With Brothers
On September 7 a strong showing of 21 Kappa Nus, including President Jack Elks '16 and Mike Duesing '62, led the charge of the annual Thankathon. On the calling team were a senior, three juniors, and 15 sophomores.
Each FIJI jumped in and began making calls and making connections with the alumni.
Top Row:
Jack Elks '16, Alex Varon '17, Jackson Stocking '17, Kevin Ortiz '17, Matthew DeFiore '16, Christian DeAllie '16, Mark Pagano '16, Ronald Forster '17, Kyle Albany '17, David Picinich '17
Botton Row:
Christopher Adinolfi '17, Doug Riegel '17, Christopher DeAllie '16
---
RECENT ROOF IMPROVEMENTS
Preserving the Oaks
Thanks to the generous support of our alumni and the dedication of our actives, we've recently undertaken some roof improvements to the Oaks.
The photo above shows details of the various layers of the roof reconstruction: foam insulation, new plywood sheeting, rubber membrane. All to be covered with new shingles.
The first photo in the slideshow to the right shows the FIJI House undergoing its roof upgrades.
The second photo in the slideshow to the right is a detail of the ignition boards during the roof reconstruction.
---
Make a gift
Brothers, help support the activities of the active chapter and alumni association by making your dues or gift contribution online today!
The Kappa Nus
Visit the "Publications" page to download the current (Fall 2014) and past issues of the newsletter.
Our Mission
Phi Gamma Delta exists to promote life-long friendships, reaffirm high ethical standards and values, and foster personal development in the pursuit of excellence. Phi Gamma Delta is committed to providing opportunities for each brother to develop responsibility, leadership, scholarship, and social skills in order to become a fully contributing member of society.
Learn more about The Kappa Nu Foundation, Inc., a tax-deductible educational foundation.